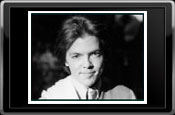 Hi! Welcome to the Official Micheal Goodrow Website.

Before I tell you about who I am and why I'm here, I wanted you to check out the rather bizarre letter-switched spelling of my first name. It is not a pseudonym, nor an attempt at vanity or a bastardization of the language. That is the name as it appears on my birth certificate and I can thank—or damn—the dyslexic, inept and probably overworked and underpaid healthcare worker who transposed the spelling some 58 years ago. But there it is and here I am, the only Micheal Goodrow in the world—born under the sign of the bad speller and the broken typewriter.
If you're here it's because you're looking
for somebody to breathe life into something you've created.

To give shape, form and an identity to a character residing on a page or sitting inside your head. That is what I do and what I love. I have spent my whole life being someone else.


Innumerable hours spent in studying acting, improv and dialect; countless theater productions; and numerous television and film appearances have turned me into a chameleon, a shape-shifter, a man of a thousand faces.